"This is a sponsored conversation from Mums the Word Network and The Stork OTC. All opinions are my own."
It's a very difficult thing to experience infertility, and can be mentally and physically exhausting. It's also extremely expensive to start fertility testing, diagnosis and treatments. Enter the Stork OTC
If you're trying to get pregnant, there is a new product available that I believe is worth a try because it is backed with medical studies and is FDA cleared for over the counter use. The Stork OTC is an at-home cervical cap insemination medical device. I am happy to share the information regarding this product because it is going to help me and all those families trying to conceive as naturally as possible without extra hassle.
This device is used during intercourse, to aid the sperm in getting close to the cervix as possible during the fertile window. It includes a Conceptacle condom-like sheath and cervical cap
Cervical cap insemination success rates are comparable to IUI success rates according to studies. The best part is that the Stork OTC can be purchased at Walgreens ,CVS, Target and select Walmart stores and it is located in the family planning section next to the ovulation test kits.
Easy to follow instructions are included and an instructional video available online at https://www.storkotc.com/how-it-works/
While the Stork OTC is designed for use without a healthcare provider, one my be consulted if desired.
Please join me in the upcoming Twitter party on July 20 at 8pm EST with Stork OTC following along at  #TTCwithStorkOTC  to learn more about the product and hear from those who tried it.
•
Buy 2 Stork OTC's at Target between July 16th and the 19th and get a $30 Target Gift Card.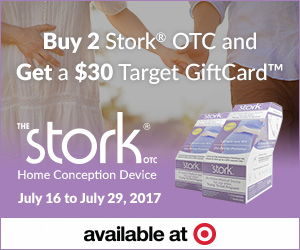 Save 25% on Single Device at the Stork OTC Store through the end of July https://store.storkotc.com/collections/all