This shop has been compensated by Collective Bias, Inc. and its advertiser. All opinions are mine alone. #CambialoConQS #CollectiveBias
Esta campaña ha sido compensada por Collective Bias y sus anunciantes. Todas las opiniones son solo mias. #CambialoConQS #CollectiveBias
My morning schedule is always so hectic, as it involves getting ready for school drop off  and activities. And even though it is often times chaotic. It is an interesting way to start the day. Especially when I get to drive the truck around.
As a Latino, family is so important and any chance we can get to spend time with our family members, we cherish them. That's why using time wisely is so important to me.
When you have to rely on your car for work and for driving around to activities so it is important to have the car in tip top shape. And with any well-oiled machine…well, you need good oil.
Quaker State® Ultimate Durability™ Full Synthetic Motor Oil is my oil of choice and it is on everyday low price at Walmart for $$20.24. It you don't have time to change the oil yourself then Walmart also has you covered with the availability and affordability of the DIFM (Do It For Me) option of Quaker State products at the Walmart Auto Center. DIFM- $19.88 Pit Crew Oil change at the Walmart Auto Cente this allows you to save time and money.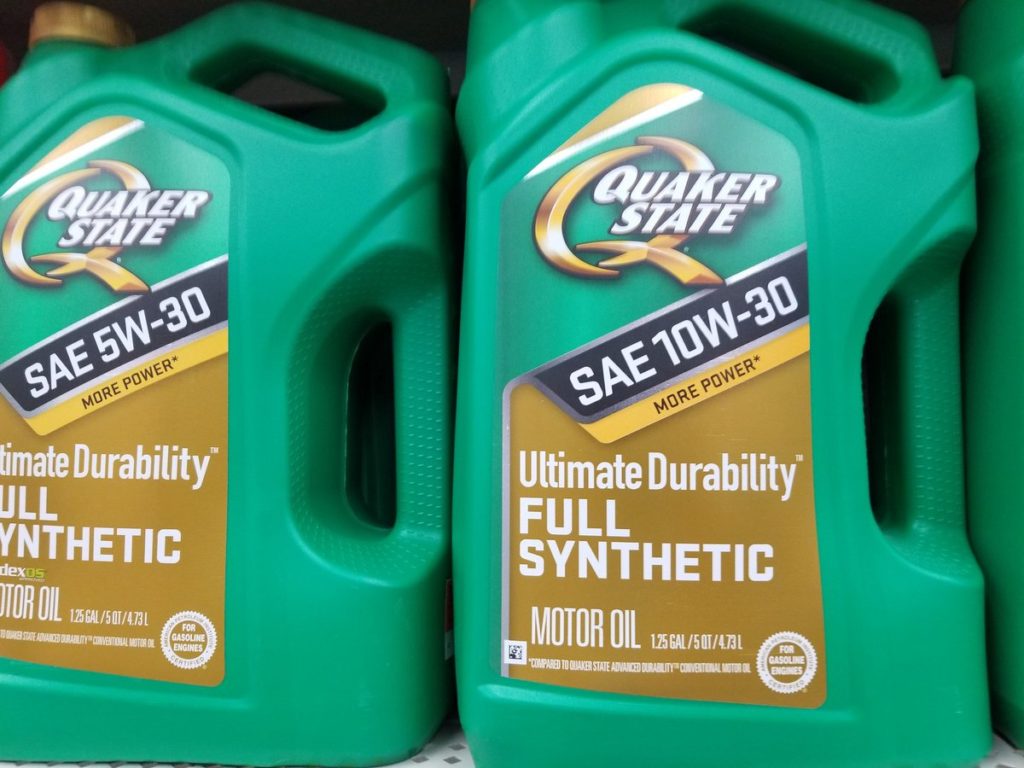 What I love about Quaker State® Ultimate Durability™ Full Synthetic motor oil is that even after hundreds of thousands of miles of severe real-world driving it still performs. It gives you more durability with the help of a fuel-saving additive that keeps the oil fresh and more engine life – as your engine temperature increases, heat-activated viscosity improvers and anti-wear additives kick in to maintain oil thickness to help extend your engine life. And even more important for the climate I love it, it offers more performance through superior lubrication flow and pumpability in below-freezing temperatures.
When we can get the oil changed in no time flat, it gets us back on the road and I feel confident that it will be that well oiled machine it needs to be!
If you have a car, the you definitely know that maintenance is very important and it is necessary to make sure that you are safe. I know that I am important and so is that precious cargo I carry along with me every day! Quaker State can give you the peace of mind of having your car well maintained by providing quality oil products we can trust.  Quaker State is a top-selling brand in Latin America and with Latinos in the USA. Being self-sufficient and having a vehicle to visit family and depend on is of top importance! There are ways to make sure your car is taken care of by doing DIY oil changes yourself at home! OR, for those who love the convenience, the Walmart Auto Center is both accessible and a great value. Walmart is the go-to destination for DIY auto care necessities, as well as for servicing in the Walmart Auto Care Center.
Here are the quick tips to changing the oil yourself.
Open hood.
Locate engine oil dipstick and remove (helps oil flow when draining oil before you change your oil.)
Once vehicle is safely and securely supported, put on safety glasses, crawl under vehicle and locate engine's oil pan. (See owner's manual for reference.)
Locate oil drain plug, which is a long bolt head at bottom of pan. The drain plug allows the oil to drain out of the pan while you change your oil. (Note: Some vehicles have two drain plugs.)
Position a container, such as an approved oil catchpan, under drain plug. Make sure the catchpan is large enough to hold the volume of oil expected to drain out of the engine.
Loosen drain plug using box-end wrench or 6-pt. socket. Carefully remove plug by hand, making sure catchpan is underneath plug hole. Oil will flow rapidly from hole, but allow several minutes for all old oil to drain out. (See vehicle owner's manual for additional information.)
Wipe the oil pan threads and oil drain plug with a rag and visually inspect the condition of the oil pan and oil drain plug threads and gasket. Buy a replacement drain plug if you have any concerns about the condition of the plug. Replace the drain plug gasket if needed (some OEMs recommend this). Once the oil is finished draining, reinstall the oil drain plug and tighten with the correct box-end wrench or 6-pt. socket to the manufacturer-specified torque. (See owner's manual.)
Locate oil filter. If the old and new oil filters are not the same, double-check the application to be sure you have the correct filter. (See vehicle's owner's manual for additional information.)
Position oil catchpan under oil filter to catch any residual oil remaining inside filter.
Loosen oil filter or oil filter cap with oil filter wrench, and allow oil to drain from oil filter.
Remove oil filter. Check to make sure filter gasket has come off with the filter. If it's still clinging to the engine mounting plate, remove it and any remaining residue.
Place a light coating of new oil you plan to use when you change your oil on the gasket of the new oil filter so it will install smoothly onto engine. (Note: Do not use grease!) By hand, install new oil filter onto engine by turning in a clockwise direction. Once oil filter gasket first contacts mounting plate gasket surface, tighten filter according to directions for your application (usually found on the new oil filter or oil filter box), preferably by hand. Generally, this is three-quarters to one full turn after the filter gasket contacts the engine. (NOTE: Cartridge oil filter replacement procedures may differ. See owner's or service manual for instructions.)
You are now ready to change your oil. Under the hood, remove the oil fill cap and pour in the correct viscosity and amount of Quaker State® motor oil with a funnel. (See vehicle's owner's manual for recommended grade, specification and amount.)
Once you change your oil, replace oil fill cap.
Start engine and run at idle for minimum of 30 seconds. Carefully inspect under vehicle for oil leaks (especially by oil drain plug and oil filter). If leaks are visible, shut off engine immediately and repair leaks.
Shut off engine and allow 30 seconds for oil to settle in the engine. Carefully inspect the area beneath the vehicle for oil leaks.
Safely lower vehicle to level ground.
Insert and remove oil dipstick to check for proper oil level, adding more oil if necessary. (See vehicle's owner's manual for oil capacity and recommended oil level on dipstick.)
Change your oil with Quaker State® motor oil as directed by manufacturer's guidelines.
"I purchased/bought/used the 5 qt version at Walmart on rollback for a great everyday low price of $20.24." I loved changing the oil in truck and knowing exactly what to do.
Quaker State is focusing on savings to see what all you could do with more money and time
Check out my video for tips