Disclosure: This is not a compensated or sponsored post. I was provided the product for review purposes only. All opinions expressed here are my own.
A few months ago, I attended an event in New York to highlight the new collaborations between Dylan's Candy and Wilton. This is a great duo and it will bring you lots of fun stuff during the fall season and holidays.
Why did Dylan Candy partner with Wilton Brands
I've always loved Wilton and discovering new, interesting treat ideas. I'm drawn to the idea of combining homemade creations and candy in unexpected ways. This line is a great nod to that. We're even taking it a step further with items that also "look" like candy, like gumball machine shaped cake toppers. That's really what makes it double the fun. Life is supposed to be full of sweet surprises.
How was this created
It was great  being involved in every step from the initial concept to the actual creation of the product. The colors, the design, the final aesthetics—it's all important to me. I love working with different members of the team and talking through interesting ideas. I like to listen to lots of opinions so we can create the best products possible.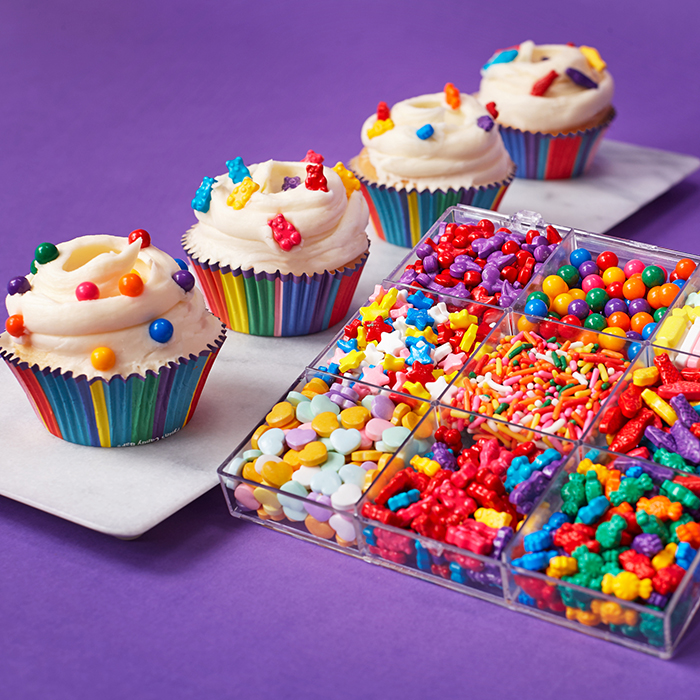 My Favorite Products
It's so hard to choose, but I absolutely love the Candy Apron Kitchen Set, the Sprinkles Tacklebox and the Cake Decorating Kits. They all feel very characteristic of our brand. We're all about merging the worlds of art, fashion and pop culture with candy—I think these products do the trick. I also love the Sugar Sheets because you can apply our "candyspill" pattern right to a cupcake!
These products inspire creativity
There are so many ways! We hope that the collection inspires bakers and candy lovers to have a ton of fun in the kitchen. Whether it's decorating a box of cupcakes and adding some fun wrappers or making an entire cake, the beauty is that you can also share what you've made and inspire someone else. You can move your creativity forward!
Check out the line at Michael's stores here
Dylan's Candy Bar was founded in 2001 by Dylan Lauren with a mission to awaken the creative spirit and inner child in everyone. Renowned for merging the worlds of art, fashion and pop culture with candy, Dylan's Candy Bar is the pioneer in changing the way we see candy today. As the largest state-of-the-art sweets emporium and candy lifestyle brand, Dylan's Candy Bar is not your average "candy store." The modern day candy land is home to over 7,000 candies from around the world, making it the most popular destination for the ultimate sugar rush experience. For more information about Dylan's Candy Bar, visit www.DylansCandyBar.com and follow them @DylansCandyBar.