Disclosure: This is not compensated or sponsored post. I was provided the product or review purposes only.
Anyone who knows me knows how much I love football. That is why I was trilled to team up with Riddell to introduce you to the NFL Blaze Helmets.
Riddell has launched a new line of NFL licensed collectible helmets that aren't your father's headgear.
The Blaze Alternate Collection consists of all 32 NFL team helmets in alternate team colors with most employing a unique anodized satin technique. Decals and striping are faithful to the current team designs, with some adjustments.  In some cases, the colors are flipped.  The Bengals' striping is orange against a black background rather than black against an orange background while the Saints helmet makes black the primary color instead of gold. On most, the logo colors remain the same but the main color gets a makeover. I love how each one stands out.
The new style is available in full size Riddell Speed Replica helmets and Riddell Speed Mini helmets. Riddell says they were designed with NFL fans and collectors in mind.
Designed with the NFL fans and collectors in mind, the bright and colorful appearance of these helmets makes them ideal for display in support of your favorite team.
These helmets have a vibrant look that stands out when displayed and creates a fantasitc opportunity for fans and collectors to add a real piece of unique memorabilia to their collection or just show pride in the team you love.
Last fall, the company debuted the "Ice" collection, helmets featuring a white matte shell with a silver face mask and silver decals that were designed with autograph collectors in mind.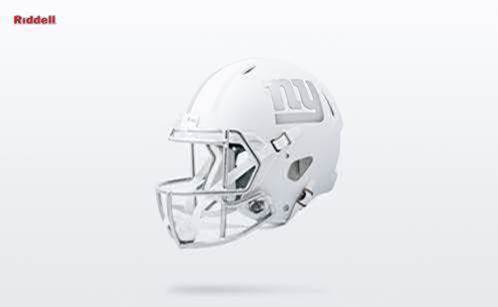 The Blaze mini-helmets are $39.99 while the full size models are $189.99.
About Riddell: Riddell is a premier designer and developer of football helmets, protective sports equipment, head impact monitoring technologies, apparel and related accessories. A recognized leader in helmet technology and innovation, Riddell is the leading manufacturer of football helmets and shoulder pads, and a top provider of reconditioning services (cleaning, repairing, repainting and recertifying existing equipment). For more information, visit our website at http://www.riddell.com, like the Riddell Facebook page, or follow Riddell on Instagram and Twitter @RiddellSports.
Now for the great news, if you leave me a comment and let me know what is your favorite team and why you support then you are entered to win one of these helmets.