Disclosure: This is not a compensated or sponsored post. I was provided the product for review purposes only. All opinions expressed here are my own.
Just when you thought we had a little bit of a break from the holidays,  your calendar shows that it is February and that means Valentine's Day is right around the corner. If you are anything like us, the holiday tends to creep up a lot faster than you think and then you are having nightmares about what to get.  Well we have rounded up a bunch of great gifts that will help you get some great cheers.
Yankee Candle-Sun Drenched Apricot Rose
Sun-Drenched Apricot Rose is one of Yankee Candle's new spring 2018 scents. I have to admit, I was overwhelmed again with this spring line-up. The unmistakable scent of rose mixed perfectly with sweet apricot. The rose is floral, aromatic, slightly powdery (in that rose-scented perfume kind of way) while the apricot was fruity, leathery, and slightly sweet. The two scents were perfectly balanced. The apricot prevented the rose from becoming over-bearing and added a spring-like freshness that I just loved. This will make a great gift to anyone in the family who loves candles and fragrances.
Calphalon Signature Nonstick Bakeware Set
When I was little, I loved to bake with my mom.  We had such a great time and it was something we really bonded over. I still love to bake and the Calphalon Signature Nonstick Bakeware Set turned out to be just the perfect thing.
I am so glad that this is a quality set of bakeware. I remember when I started out on my own, and bought cheap-o stuff. They were just awful and I burnt almost everything! I have used and loved Calphalon for years and years, and my baked goods turn out perfectly each time.
Once you get this you won't want to wait to start baking, and you will pretty much started the second the minute the set arrived.
The Calphalon muffin pan with lid is genius! The lid clips on and has a handle so you can carry your cupcakes to a party, BBQ, classroom party, etc. I absolutely love this idea, as nothing is worse than making sure your cupcakes are perfect, only to unwrap them to discover the the tops are "smooshed". A lot of time and effort goes into making them, and it is so disappointing when they don't turn out as you had hoped. The lid is very spacious, so it won't crush any artistic frosting decorating.
And as anyone who's made cupcakes before knows, no matter how neat we all try to be while pouring cupcake batter it never seems to be completely perfect. The Calphalon pans were incredibly easy to clean and with just a flick of the nail, cooked pieces came right off and washing was quick work.
Everyone on your list who loves to bake or want to learn will love this set.
Paper Mate Ink Joy
Paper Mate  launched NEW InkJoy Gel Pens! With vivid gel ink that dries 3x faster for reduced smearing and 14 brilliant colors to choose from, taking notes this school year will be bright and filled with fun!  They sent me a set to test out and I have been using them all over.  I love all the fresh colors and the fact that they dry so fast.
Spread joy (not smears) with quick-drying Paper Mate InkJoy Gel Pens. With vivid gel ink that dries 3X faster* for reduced smearing, it's like a party on the page where smudges aren't invited. With 14 brilliant colors to choose from, your notes will be bright and filled with fun. Perk alert: these colorful pens are fully wrapped with a comfort grip (because words should never hurt you) and feature a smooth style that keeps the joy flowing as fast as your thoughts.
Quick-drying ink dries 3X faster* for reduced smearing, so smears run in fear
Brilliant gel ink brightens all your notes

Ergonomic comfort grip wraps the entire pen

Smooth ink keeps the fun and ideas flowing
I included this on this list because so many family and friends are looking for the those perfect pens for their journals and calendars.
Sharpie Ultimate Collection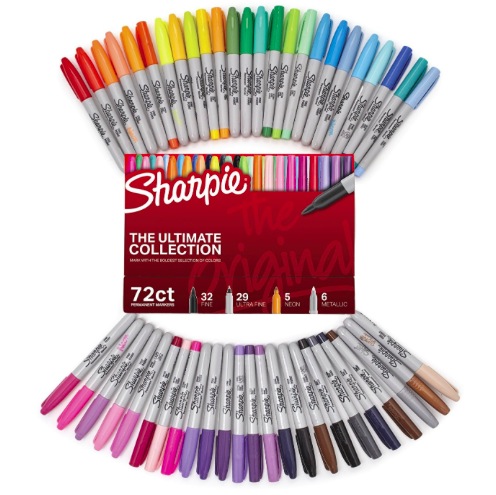 Dare to unleash the ultimate in vividly creative marking with this collector's edition of Sharpie® Permanent Markers. Bold and permanent to the core, your Sharpie marker set includes fine tip and ultra fine tip markers in vivid original colors, luminous neon markers, and shimmering metallic markers. Made to mark practically everywhere, original Sharpie marker colors inspire you to transform ordinary surfaces into vibrant, personal statements. Not to be outdone, neon markers create an electrifying impact, glowing fluorescent under black light. And, Sharpie metallic markers put pale imitations to shame, laying down a pure metallic sheen that intensely stands out on dark surfaces. Featuring markers in both a bold fine point built for jaw-dropping marks and an incredibly sharp ultra fine point for ridiculous detail, Sharpie Permanent Markers ignite courageous self-expression.
Proudly permanent ink marks on paper, plastic, metal, and most other surfaces
Brilliant selection of vibrant colors helps you make a vivid impression
Remarkably resilient ink dries quickly and resists both fading and water; AP certified
Features durable Collector's Edition case
http://www.sharpie.com/collections/ultimate-packs/SHUltimatePacks.html#cgid=collections&start=4
Abu Garcia Revo X Spinning Combo
This Abu Garcia Revo SX Spinning Reel is perfect, or as close to it as you can reasonably expect for the asking price.  Now let me explain in this review why this is such a good reel, and the majority of fishermen, especially those who hunt bass, are buying this particular model.
The casting with this reel is so smooth and easy, even with a lighter fluorocarbon line, the drag is strong and outstanding.  The amount of line able to cast is remarkable as well.  You will feel like a pro.  The steelhead better beware!  The style will impress other fishermen, so be prepared to tell them all about it.  You might even use the word "beautiful" to describe this reel, because it's a damn sight to behold.  You're not going to want to give this up, once you try it, mark my words.
The Abu Garcia Revo SX ranks right up there with other popular reels used for bass fishing.  The latest X-Craftic alloy and C6 carbon materials are used so that you will think that it is light to hold, while providing you with the durability and strength when fishing for larger fish.  Abu Garcia uses 8 stainless steel HPCR ball bearings, solid brass gears, and a one piece gearbox too.
Abu Garcia has thought of everything.  This solid mechanical reel is a powerhouse that you will appreciate when the right fish comes along, whether it be a bass or anything else.  The aluminum spool has been extra machined to hold the braiding in place, and allow the release to work perfectly with no slippage  You are ready for all the shaking and cranking that comes with a good bite.
The Abu Garcia Revo SX will last a long time.  The C6 carbon body is light but strong.  You won't be disappointed when the fish hits and the drag begins.  This reel is great for bass, trout, panfish etc.  Up the model and you're ready for the big bass, pike, and even the inshore salt water species.
Please let us know if any of you have tried any of the products above, and if you have any awesome finds recently that would fit as a gift for the girls, guys, or friends in your life for v-day be sure to link it up below. We would love to hear about some of your new favorite products.