How many of you would love to have the scent of the outdoors inside more, well have I got the product for you. I was lucky enough to be invited to the Bounce Burst Launch Event. Bounce is launching it first ever in-wash fabric care product. Bounce Burst comes in a convenient bead form that allows you to control the amount of Outdoor Fresh scent added to the wash. The time released freshness capsules transform you fabrics allowing them to release bursts of outdoor freshness throughout the day, making you forget you aren't outside.
The event was held at The Old Bowery Station in New York, which was transformed for this event. In order to demonstrate this experience Bounce has partnered with celebrity interior designer Thom Filicia to help transform the area.
When we arrived we were escorted through the station and meet with a clothing line in the entry way that included fabrics that were washed in Bounce Bursts.
We were then treated to a discussion about the product by Anne Candido, Bounce Communication Manager. She discussed the Bounce brand story and officially introduced us to the product.
Between the time we spend commuting, working in the office and the endless things we have to do with our lives we forget about enjoying the outdoors. The outdoors has a great impact on how we feel and our emotional well-being. According to a study, 95% of those interviewed said their mood improved after spending time outside, changing from depressed, stressed, and anxious to more calm and balanced feeling.
In order to bring this more to life we to spend time with designer, Thom Filicia. Thom Filicia is founder and Chief Creative Officer of New York City-based design firm. He is know for his ability to create stunning modern, yet classic interiors. Thom was wonderful in showing us how we can make small changes in an area and learn to enjoy the outdoors while being inside. The discussion we had about these small changes made me want to run home and make some small changes to my office and home space.
The interior of the area left me speechless.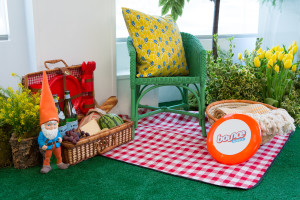 With the launch of Bounce Bursts you can enjoy the scent of the outdoors everywhere you go, even if you are indoors all day.
Disclosure: I received a bottle of Bounce Bursts to try, however all opinions expressed here are my own.