Disclosure: This is compensated or sponsored post. I was provided the product for review purpose only. All opinions expressed here are my own.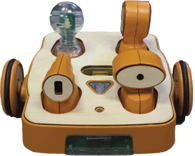 The wonderful world of engineering with children and inspiring them to continue their STEM education. We are always drawn to tools that make teaching engineering concepts more engaging and hands on for children …The KIBO robot does just that.
KIBO is a robot kit specifically designed for young children aged 4-7 years old. It is different from any other kit out there because it appeals to both technically minded kids and those that connect more to arts and culture or physical activity. Young children learn by doing. Children build their own robot with KIBO, program it to do what they want, and decorate it. KIBO gives children the chance to make their ideas physical and tangible—exactly what their young minds and bodies need. And KIBO does all this without requiring screen time from PCs, tablets or smartphones.
Designed for open-ended play, KIBO lets children make almost anything – a character from a story, a carousel, a dancer, a race helicopter – anything that they can think of. The child creates a sequence of instructions (a program) using the wooden KIBO blocks. They scan the blocks with the KIBO body to tell the robot what to do. They press the button and the robot comes alive. With KIBO, young children can become programmers, engineers, designers, artists, dancers, choreographers and writers.
Coding (or programming) is a new kind of literacy. But it exercises mental muscles that are useful for many other activities and skills. When playing with KIBO, young children learn programming ideas that are directly related to foundational concepts in math, literacy, science and humanities. These include sequencing, modularity, cause-and-effect, and patterns. Research shows that sequencing is foundational for academic success, for math and literacy development, as well as for executive function. Furthermore, children engage in habits of mind such as: design process when they iteratively develop and test an idea; problem solving when their KIBO programs don't work the way they want; and executive functions when they plan and execute their projects with different kinds of constraints such as time, resources or materials.
Young children love to make things, and they love to make things that move and respond to their commands. Robotics brings together atoms and bits – the physical world and computational world. Robotics is a natural fit for young children's interests and curiosities. Research shows that young children will learn programming and engineering at a very early age if they are given tools that are developmentally appropriate.
Research also shows that children are most open to new ways of thinking about themselves when they are under the age of eight. So to ensure that their self-image includes enjoyment, understanding and competence in working with technology, it is best to expose them to it while they are open to soaking it up. That way they will grow up to have skills that give them both improved employment opportunities and a healthy outlet for self-expression.
Furthermore, research shows that from an economic and a developmental standpoint, educational programs that begin in early childhood are associated with lower costs and more durable effects than interventions that begin later on. Research also shows that introducing STEM (Science, Technology Engineering and Math) in early childhood might help to avoid stereotypes. However, one of the major impediments for bringing technology and engineering into early childhood education is the lack of developmentally appropriate technologies. KIBO addresses this need.