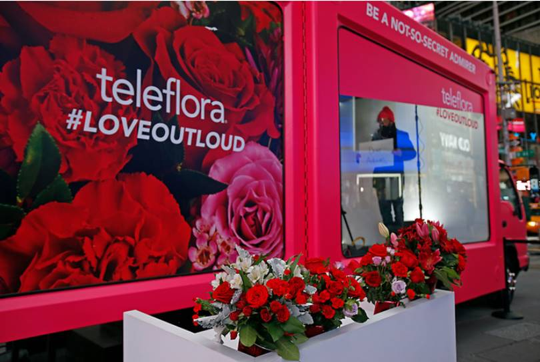 On February 7, 2018, Teleflora set up Pop-up Film Set and Romantic's Corner In Times Square to help participants Craft Courageous Video Love Notes.
With some help from Teleflora, love-struck New Yorkers will publicly declare their love to their crush on a huge Times Square billboard, right in the heart of the city. The videos will be transmitted in real time, making their love declarations larger than life. The unique pop-up film set is clear glass and on wheels, allowing crowds and attendees to see the declarations from beginning to end.
This massive call to action is part of Teleflora's ongoing Love Out Loud campaign, encouraging people to share love. After taking the leap of faith, participants will be able to share their love declaration video on social channels with the #LoveOutLoud campaign hashtag, making their message even louder on their social channels.
What a great way to kick off Valentine's Week.