I was one of the lucky bloggers who got invited to be included in the Blogger Lounge hosted by Momtrends on Saturday, May 16, 2015 at the New York Baby Show in New York City. I arrived early before everything started and got to see the quiet before the excitement started.
From the top of the lounge you could see the floor below and all of the people and the amazing vendors that were in attendance.
At the Blogger Lounge we were treated to some fun stuff. The Glam Squad was on hand to help us bloggers start the day off right. We could get our nails done, hair and make up. I took advantage of the chance to get my hair worked on. It turned out looking absolutely wonderful. The Glam Squad is an on-demand in home beauty service in New York City that sends the hair stylist and makeup artist to you. They are also currently expanded so they will be available in other places soon.
The Blogger Lounge had a great thing for bloggers who brought their kids along. The Nanny League, college-educated nannies were on hand to keep an eye on the kids while moms ventured out to meet some of the vendors. It was great to have that opportunity to feel relaxed that the children were in good hands, while we got to walk around and speak to everyone.
One of my favorite vendor's was at the Blogger Lounge, Mabel's Labels. They had a table set up and were nice enough to provide each of the bloggers with a custom Mabel's Labels set. If you have never heard of them, you have to check them out, they provide custom labels for all of the stuff kids have. They are washer safe, and come in so many styles and shapes, that you will have a hard time choosing. They are great for school supplies, sports equipment and all other gear.
After spending time in the Blogger Lounge it was time to visit all the vendors.
One of the first vendors that I visited was the Quinny/Maxi Cosi. They are a company that is dedicated to creating products that grow together with your child. They understand what it means to be a modern parent and that we need products that are easy to use everyday. Their strollers, carriers and other products are easy to clean, comfortable and above have all the safety features we are looking for.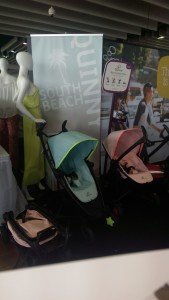 Another great vendor that I got to visit was Mom's Pump Here. Co-Founders Priya Nembhard and Kim Harrison (both moms of three children/ currently based in NYC) were always concerned about where they could comfortably and privately feed their small infants in public so they developed an app that uses GPS technology to locate nearby Nursing Rooms throughout the United States. The app is officially available free for download via the Google Play Store, Amazon and very soon on iTunes.
Cannon who was the presenting sponsor at The New York Baby show provided demonstrations on how to use their cameras and other equipment to be able to take those perfect pictures. I am one that personally struggle with that, so I was happy for tips. Check them out.
Facebook: https://www.facebook.com/CanonUSA
Twitter: @CanonUSAImaging: https://twitter.com/canonusaimaging
Thank you so Momstrends for inviting me to be a part of this event! It was wonderful, and I can't wait to be a part of the next one!
Disclosure: I was compensated for writing this blog; however all opinions expressed here are my own.