If you are a fan of Hotel Transylvania, then you already know that Hotel Transylvania 3 will hit theatres on July 13th.
In Sony Pictures Animation's Hotel Transylvania 3: Summer Vacation, join our favorite monster family as they embark on a vacation on a luxury monster cruise ship so Drac can take a summer vacation from providing everyone else's vacation at the hotel. It's smooth sailing for the Drac Pack as the monsters indulge in all of the shipboard fun the cruise has to offer, from monster volleyball to exotic excursions, and catching up on their moon tans. But the dream vacation turns into a nightmare when Mavis realizes Drac has fallen for the mysterious captain of the ship, Ericka, who hides a dangerous secret that could destroy all of monsterkind.
The great thing about these movies, is the wonderful line of products that will be introduced. Back in September, Sony announced that Jazwares would introduce a toy line based on the new and classic characters from the beloved franchise.
This weekend, I got a sneak peak at some of the products, and I wanted to share it with all of you.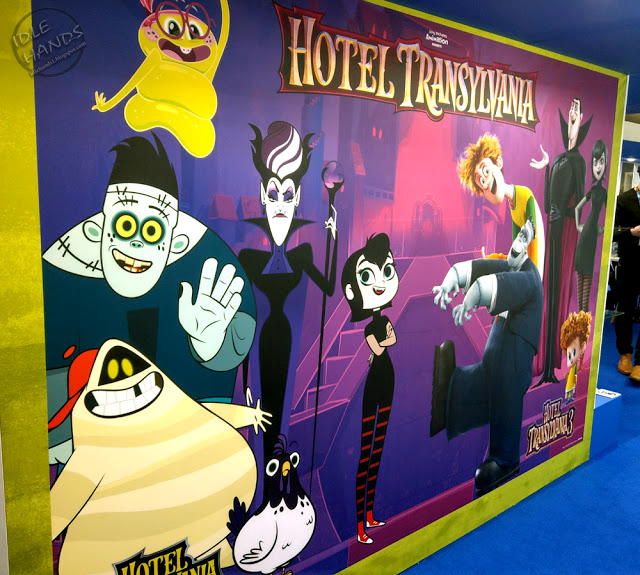 Check out a what Jazwares will be rolling out this year and we promise to give a shout and find out more. Among the items on hand, you'll note they come in two distinct styles, one being the more CGI movie style and the other, a more stylized look from the animated series. Products include action figures in a couple of different scales, Mavis dolls, and Monster Mayhem blind box mini figures in the cutest frikken trunks I've ever seen!! You use a key to pop them open and inside, you'll find a little monster! There are 61 monsters to collect.. The line also includes mini Mavis in mini playsets, plush and what appears to be role play items!
Here is a list of the products you will see this Summer and Fall
4" Character 4PK Assortment
"Ghoul Gang" (from TV show)
"The Drac Pack (from movie)
4" Mavis Doll Assortment
Fully molded with 9 points of articulations! Proportions & scale allow for fun fashion play with flexible fashion pieces that are removable.
6" Plush Assortment
Mavis, Wendy, & Hank from the TV series
10.5" Deluxe Fashion Dolls
Ghoulishy-glam fashion dolls with rooted hair and 9 points of articulation!
Themed removable soft goods and shoes allow for fun, fashion play!
Mavis
Boo Voyage!
Mavis, Drac, Johnny, & Dennis dressed in cruise wear
6 wearable accessories for fashion play
Hotel Rooms Assortment
Build onto the Hotel Lobby!
Each room playset comes with an exclusive Mavis figurine & special hotel key to unlock a surprise hidden monster collectible
"Ghostly Goodnight!"
Scream Cheese Café
Monster Mayhem
Mystery mini monster figure comes hidden in a trunk that's unlocked with a special skeleton key
61 editions!
Be on the lookout to uncover a piece of Hank! Keep collecting to find all of Hank's body parts to put him back together
Some trunks contain rings to store all your skeleton keys
The Grand Lobby Playset
Spooky lights & sounds
Hidden elevator!
Creepy-cool monsters!
Use the skeleton key to unlock a surprise, hidden monster!
Trap doors!
I had so much fun learning about these products and can't wait to bring more information to you. I also got this great manicure to commemorate the fun.