Disclosure: This is not a compensated or sponsored post. I was provided the product for review purposes only. All opinions expressed here are my own.
Saddle Stars Skye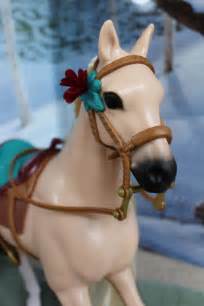 Skye is a 1/6th-ish scale horse made of hollow plastic, like most horse toys out today.  She stands well in her molded pose. What drew me to this toy was the look. This is a very pretty horse! Her eyes are basic black with a dark gray above them and her snout is also accented with black. These elements look really good on her tan skin. She's not flocked, by the way. Her body is, as I said, a hard plastic
Her mane and tail feature soft, long blonde hair, which is easy to style.
Skye comes with a number accessories. They are: a turquoise/maroon plastic saddle, a bridle and reins, a brown saddle blanket, a saddle bag (which can attach to the saddle), a comb, four hair clips and two sets of colorful horse shoes.
The saddle bag is really nice. It's molded plastic, but opens so you can store your extra horseshoes or hair clips inside. The fringe and braided shoulder strap are real faux suede.
The horseshoes are pretty neat. Skye's foot is molded with indents that allow these colorful horseshoes to fit tight (for the most part) on the horse's hoof. It's a fun way to play with Skye that I don't recall being in other horse lines.
Skye comes in a large box. The graphics on the box are beautiful. I love the artwork! This will definitely stand out on store shelves. The box has a flap that opens, which allows shoppers to see Skye, as well as learn more about her unique personality. Each horse has a journal entry and a list of likes that help you relate to the horse, more so than you might a toy without these little details.
She's the cutest horse toy I've seen in a long time. Also, I love the accessories, especially the horseshoes. I look forward to seeing the other horses in the Saddle Stars line!
Hearts for Hearts Girls Doll
For those of you who are new to the brand, the Hearts for Hearts Girls were first released in 2011.  The initial release had six dolls.
The Hearts 4 Hearts dolls caught my attention for two reasons.  First, a portion of the purchase price of these dolls goes to charity.    Even though I like the idea of a "charitable" doll, I do wonder what the real scoop is.  I mean, how much of the purchase price actually goes to charity?  How much do they mark the dolls up because they have charity written all over the box?  I'll want to explore that a bit.
The second thing that caught my attention was simply that the dolls look lovely and well made.  At my local Target, Hearts 4 Hearts share the aisle.  The Hearts 4 Hearts girls stand out in this crowd because of their sweet faces, the stories behind each doll, and all of the authentic details in their outfits.
There are six Hearts 4 Hearts dolls to choose from, each from a different country.  Each of the girls has a story about overcoming adversity in her life, and each character has lots of ideas for how to improve the living conditions in her region of the world.  Each doll's outfit has traditional accents in its design.  I didn't have an easy time choosing which of these dolls to bring home.  I wanted to pick one with an appealing face, an interesting story, and an intricate outfit, but many of them have this combination.  I finally settled on Nahji, a ten year old girl from Assam, India.
On the back of the box, you can see the other five girls, Dell (USA), Consuelo (Mexico), Rahel (Ethiopia), Tipi (Laos) and Lilian (Belarus)
They come in a  big, solid cardboard box decorated with a larger-than-life photograph of her face.  A flap on the front of the box is held closed with velcro and can be opened in the store so that you can peek at the actual doll you are buying.  There's a ton of reading to do on the box.
Celebrate a culture of courage with Rahel, our doll from Ethiopia! Like all Hearts For Hearts Girls dolls, Rahel stands 14 inches high and has a poseable, smooth vinyl body, and high-quality rooted hair. She has stunning amber-brown eyes and an abundance of beautiful curls. Rahel comes dressed in a rich yellow knit top with cuffed sleeves, and a crimson, woven wraparound skirt with textured patterns and fringe around the bottom. She comes with a hair comb, a girl-sized heart charm bracelet, and a mini storybook about her life.