On February 19, 2015, Vera Bradley announced its first celebrity ambassador, 2013 Olympic Ice Dancing Gold Medalist, Meryl Davis! As the national brand ambassador, Meryl shares her passion for Vera Bradley with her fans. "I'm excited to partner with a brand that is near and dear to my hear", she said. As a Michigan native, Meryl grew up carrying Vera Bradley, and she loves seeing how the company has grown in the fashion world while staying true to its heritage.
As part of this great partnership, Vera Bradley has given us a line of Meryl's Favorites which launched on April 1,2015. Check out the line at:
http://www.verabradley.com/category/new-arrivals/meryls-favorites.uts
This line embodies the energetic spirit, and kindness of the accomplishments of a great athlete. She shares the styles and colors she's carrying, as well as packing tips and glimpse into her busy life, both on the road and at home.
I love that Meryl has chosen colors that pop and get us ready for Spring.
Vera Bradley is giving my readers a chance to win this adorable clutch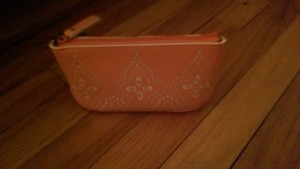 All you have to do is leave comment and follow me on twitter, instagram, pinterest, or facebook.
Please make sure to include your email so that you will be notified if you win.
https://twitter.com/Nico2317
http://www.pinterest.com/nico2317/
http://instagram.com/denisenico23
https://www.facebook.com/savingswithdenise
This contest will run until the end of April
Disclosure: Disclosure Many thanks to Vera Bradley for the products in exchange for this review and post, however all opinions expressed here are my own.